Commercial fencing contractor services
As a leader in commercial fencing, we provide perimeter security and access control products to businesses, industries and government organizations. Our name has become synonymous with quality products, and we have been offering dependable service since 1980.
We offer a variety of secure, reliable and aesthetically pleasing commercial fence styles at reasonable prices. Our goal is simple: to listen to your needs, assess your property and recommend which type of fence and gates will best suit your needs. We can deliver the security, privacy and specific aesthetic you are after.
Some of our commercial fence options include chain link fencing, ornamental fencing and a wide range of gates. To select the solution that's right for you, see some of the commercial installations below. If you don't see what you are looking for, we can custom manufacture a solution tailored to your unique needs.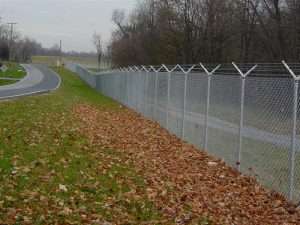 We offer polyvinyl coated chain and galvanized chains at different heights to suit your needs, and can help you meet your commercial chain link fence specifications. Commercial grade galvanized and black chain link systems have been the preferred application to define property lines and enclose government and commercial facilities, and both protect and add value to commercial properties. We offer the full-range of heavy gauge pipe and wire, including schedule 40. Products are available from 3′ to 20′ heights, and for additional security we offer a variety of barbed wire options. Our chain link fence prices are unmatched by other commercial fence companies. We specialize in high-security commercial projects including quarry enclosures, power stations, solar farm enclosures, and storage facilities.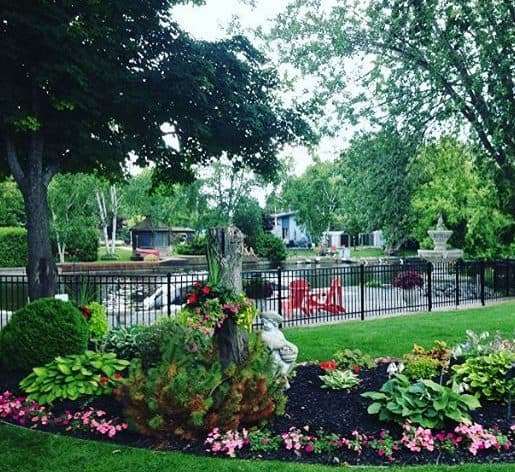 A wrought iron inspired ornamental fence can enhance a property's appearance with a high-end look, adding value to your property while offering all the functional benefits of securing and defining property lines. Our ornamental steel fence – similar in appearance to wrought iron, but more cost effective and durable – is a popular choice for enclosing government, church and educational facilities. We offer various heights from 3′ to 6′ in a variety of elegant styles to complement your building.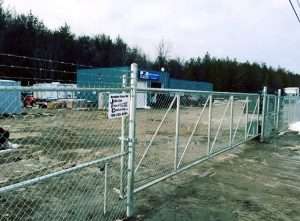 We offer a wide variety of vehicle access gates, barrier gates and man-gates in cantilever sliding and swing styles, and in both ornamental and chain link materials. If you are looking for a non-standard style, we offer customized options. If you're looking for an electric sliding gate you can choose from a variety of automated features, including a dual swing gate opener, automatic gate opener with keypad, and solar powered automatic gate opener.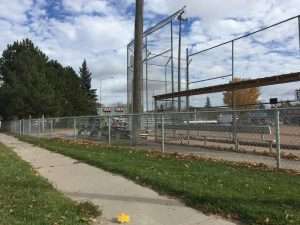 We also offer a variety of unique commercial fence applications, including custom enclosures & partitions installed inside buildings, church and educational facility fences, and specialty parks and sports fields. In addition, we offer law enforcement solutions, highway fencing, environmental fencing, bollards and more. See below for a sample of these unique commercial applications! If you don't see what you are looking for, we can create a custom solution to meet your needs. Johnston Fence Contracting is the commercial fence company you have been looking for!